Our interim Chair, Sir Tony Hawkhead, reflects on our impact in 2021.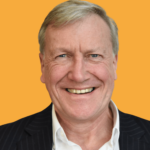 As the cost-of-living crisis grows and the immediate impact of the pandemic recedes, it marks a poignant moment for us to reflect on the past year. In 2021, our second year of operation, Youth Futures achieved a huge amount: we provided critical funding, collaborated on – and shifted – Government policy, and built a diverse team across England. It was a busy and exciting year of growth for Youth Futures but it was characterised by constant change.
Lockdowns caused significant economic and educational disruption, and the subsequent increase in youth unemployment pushed this issue to the top of the political agenda. As restrictions lifted and the economy began to recover, youth unemployment fell, but the benefits of the economic recovery were not felt equally. This is the core mission of Youth Futures – to support young people facing disadvantage into the job opportunities that are now available.
The scale of the challenge persists as one in eight young people remain out of employment or education. Significant regional disparities underlie the headline statistics. The highest rates of unemployment for 16–17- and 18–24-year-olds were in London (52% and 19% respectively). The highest rates of NEETs are in the North East.
To tackle this, our 2021 achievements include:
Launching our flagship £6.1M Connected Futures Fund, working with the Government and other key stakeholders to reduce the fragmentation of youth employment and skills delivery in the places that need it most
Allocating a total of £20.2M to 148 not-for-profit organisations that provide employment support to 17,757 young people, to identify what works to improve the overall system
Generating evidence of what works by running England's largest portfolio of evaluations of youth employment provision
Publishing our Youth Employment Evidence and Gap Map – the world's largest, quality-checked evidence base on youth employment
To find out more about our work in 2021, please read our Impact Report here.
None of this would be possible without the tireless support of Youth Futures' founding Chair, Joe Montgomery. In his three-year tenure, he provided expert insight and guidance and steered the organisation through the youth unemployment crisis. We would like to offer our sincere gratitude to Joe and wish him every success in his next venture.
Our work continues apace, as we build on this momentum with the recent allocation of an additional £20million from the Dormant Assets Scheme. Working with you, our partners, and stakeholders, we're looking forward to driving through long-term systemic change so that young people from marginalised backgrounds achieve their full potential.