Our Director of Strategy & Innovation, Jason Arthur, explains why Youth Futures is proud to sign up to the #PowerOfYouth Charter.
As we enter Summer – and *finally* get some decent weather – after a torrid fourteen months, there are reasons to be optimistic. June 1 saw the UK announce zero daily Covid deaths for the first time since March 2020. Soon, three-quarters of adults will have received at least one Covid vaccination – an incredible achievement for the scientific community and the NHS. And now, the OECD now predicts that the UK's economy will grow more quickly than previously thought.
As we continue along the road to recovery, naturally there is growing focus on what it means for the UK to 'build back better' and 'level up'. The pandemic has exacerbated pre-existing inequalities and urgent action is required on a range of social, economic and environmental issues. We cannot simply return to how things were.
How we support and empower young people to lead happy, fulfilling lives must be at the heart of our collective response to these challenges. The impact of the pandemic on younger generations, particularly those from disadvantaged backgrounds, has been catastrophic. In addition to worsening mental health and widening attainment gaps, younger workers have also experienced the brunt of the pandemic's hit to jobs and pay.
Under 25s now account for nearly two thirds (63%) of the total fall in employee numbers since the crisis began. They are over-represented in both the sectors hit hardest by the pandemic to date, and in the sectors that are forecast to see lower employment in the long term. Young people from ethnic minority backgrounds have been particularly hard hit, with the fall in employment being four times higher for young Black people and nearly three times higher for young Asian people than their white peers.
Yet, despite these challenges, young people continue to show immense resilience. Despite media portrayals too often depicting young people as selfish or irresponsible, the vast majority feel a strong sense of social responsibility and have followed government guidelines. More broadly, over the last year we have seen young people lead campaigns to drive positive change across society, including spearheading movements for racial justice and urgent action to address the climate emergency.
I have been fortunate enough, after a decade working in schools and the youth sector, to have seen first-hand the positive impact young people can make – as volunteers in hospitals, as commissioners for councils, as peer-mentors, and so much more. Our ability to build a fairer, stronger society demands that we engage young people as active citizens. No longer should it be viewed as acceptable for decisions to be taken for young people, without young people.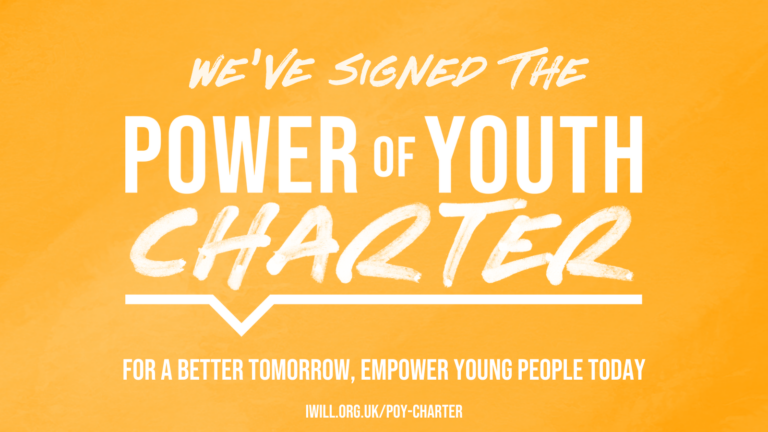 That is why Youth Futures is proud to sign up to the #PowerOfYouth Charter. As an organisation, we recognise that we cannot achieve our vision – of a society in which all young people have equitable access to good quality jobs – without young people being at the heart of how we think and act.
That's why young people participate throughout our decision-making structures. That includes:
Two young people on our Board of Directors, including sitting across all our Board committees
Working closely with our Future Voices Group – an inspiring group of thirteen young people from across the country, who shape our strategy and act as our ambassadors
Setting up a Youth Reference Group to lead on the evaluation of our Inspiring Futures Fund in partnership with BBC Children in Need
Amplifying young people's voices through our communication channels, including through our Future Voices Digital page
Supporting the development and growth of the Youth Employment Group's Youth Voice Forum
Meaningful engagement with a diversity of young people and their lived experiences will be at the heart of how we work as an organisation. By signing up to the Charter, we are holding ourselves publicly accountable for truly embracing, promoting and growing the power of youth!