Our Analysis Manager, Andrea Barry,

responds to May's ONS labour market stats,

noting how long-term unemployment is still higher than pre-pandemic levels (21%) for young people aged 18-24.
Youth unemployment is the lowest it's ever been (10.6%), in a good overall indicator of the labour market. However, economic inactivity is still relatively high, at 9% with 1 in 10 young people not in education, employment, or training (NEET).
For young people aged 18-24, long-term unemployment is still higher than pre-pandemic levels (21%). It is essential to understand who is more likely to still be unemployed, for over 12 months, given the record level of vacancies (with more vacancies than unemployed individuals).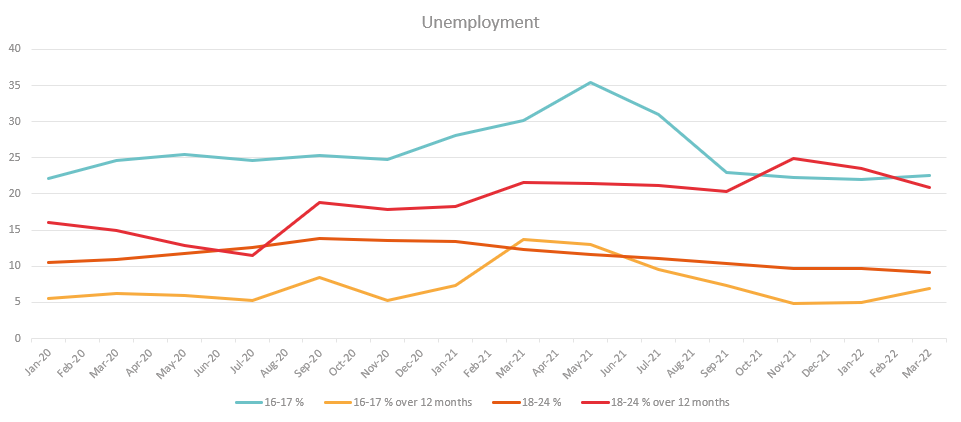 Furthermore, economic inactivity for young women aged 16-24 who are not in full time education has increased (17.3% to 18.4%) while the unemployment rate has declined (from 7.9% to 6.6% ), and employment is stagnant (76.2%). For 16–24-year-old men not in full time education, there has been a decline in economic inactivity (15.8% to 14.9%) and employment has increased (74.4% to 75.4%). There is a clear polarisation amongst men and women who are not in full time education, and it is a worry that many young women have left the labour market and are no longer seeking work. For men in full-time education, aged 16-24, economic inactivity has increased(67.4% to 68.8%), and unemployment is up (15.5% to 16%). Again, there is a clear difference in how young people in and out of education interact with the labour market, and this is a clear economic trend that should be monitored, especially given the further increase in the cost of living.
Furthermore, today it was announced that UK inflation soared to 9% in April, the highest in over 40 years. Increasing gas and electricity costs, food, and transport costs, as well as housing costs are pushing budgets to the limit. The impact on young people is mixed, as this will largely depend on their individual circumstances. Young people with student loans may begin to experience a crisis of rising interest rates, with the IFS calling it a rollercoaster for student loans. Young people who claim Universal Credit will find the real value of their benefits decline, as well those who claim for disability support. As young people will spend, on average, double on essentials like rent or bills than people aged over 51 will, this is a serious problem that we must solve, so that young people are not forgotten in the policy discussion about their present and future.