In this guest blog post, Ruth Busby, Youth Futures Board member and HR Director at Great Western Railway, reflects on the value of apprentices in the workplace and their offer to young people interested in apprenticeships.
Great Western Railway (GWR) is proud to have an award-winning apprenticeship programme delivered across 2,000 miles of the Great Western Railway network.  Our offer includes entry level grades in customer service and engineering, delivering both core skills for the railway and helping the young people we work with to develop wider life skills.
We work with the Duke of Edinburgh Award to offer the Gold Award programmes to our apprentices, giving them an opportunity to develop resilience, experience the outdoors, and actively engage in community engagement and fundraising.  We also provide an educational qualification in railway operations with the Chartered Institute of Railway Operators.  All of our apprenticeships are delivered in partnership with the OFSTED outstanding Exeter college, although apprentices are sought from across the South and South West.
Our apprentices thrive at GWR, with 99% of them going on to have permanent roles within GWR, and many seeing promotions quickly.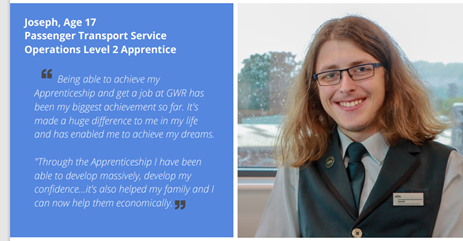 We know we have created a brilliant opportunity for young people and we want that opportunity to be known about, and open to, young people from a wide range of backgrounds.  That is why we are actively engaging with the communities that we serve across our network to ensure that we're creating an inclusive programme for all.
Our outreach programmes help us to connect with our diverse communities, providing opportunities for development, work experience, and qualifications. We have worked with young long-term unemployed adults through the Prince's Trust, a community of refugees in Devon through the charity Devon BAME, and with young people with mobility impairments through Whizz Kids and MenCap.
We know that by supporting our local communities we will enhance their career prospects and at the same time showcase opportunities in the rail industry, and we actively encourage those from marginalised backgrounds to apply for our apprenticeship and other roles.
You can find out more about the opportunities at GWR by visiting: https://www.gwr.com/about-gwr/careers
We'd love to hear from you.
Ruth