At Youth Futures, we are dedicated to ensuring that young people are supported into meaningful employment. We are delighted to announce that we have signed up to the Good Youth Employment Charter.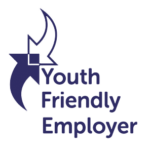 Being a Youth Friendly Employer is a privilege that we are honoured to have but it should also become so commonplace that young people are able to go to any employer and feel that they would be supported into and through their journey of employment. 
We know that we need to work with employers to tackle the challenge of youth unemployment, which is why we have also established our Employer Advisory Board –  it is an opportunity for a small group of key, diverse employers to collaborate with us on this vital issue 
At Youth Futures, we have committed to upholding the five principles of this charter. We believe in creating opportunities and have done so by supporting 30 Kickstart placements at the Young Foundation. These 'Kickstarters' will receive training in, and conduct social research. We've also created opportunities through committing £18.7 million to tackle the youth employment crisis, supporting 141 organisations in their work to support young people on their employment journey – our Impact Report also talks about more we have done to create opportunities.
As an organisation, we are keen to recognise talent and we have started recruiting young people  – employing two apprentices (yours truly, being one of them) and plan to recruit more young people in the future. We also recognise the talent of young people by appointing them to our Board of Directors, and its grants committee. 
Fair employment is very important to us and that is why we are campaigning for an #OpportunityGuarantee for young people, through the Youth Employment Group. An Opportunity Guarantee is needed as a response to Coronavirus as it has had a devastating impact on the employment prospects of young people. We also develop our people by offering training. As a Youth Futures apprentice myself, I have training opportunities, for example my Level 4 Junior Management Consultant qualification that I am pursuing as part of my apprenticeship.  
One of the most important pillars of this charter, and key to our approach, is embedding youth voice into our work. Young people are our central stakeholders and are at the heart of everything we do. We have set up the Future Voices Group to be our advisors and ensure that young people play a pivotal role in our work. We have also appointed a Youth Reference Group to help evaluate our Inspiring Futures programme. These groups are testament to our work in ensuring that young people are central to every aspect of our work.  
Deuvaunn Darroux, Strategy Officer Apprentice