We catch up with Dr Pedram Saied, Director at Toranj Tuition – an organisation dedicated to addressing educational underachievement and unemployment – and one of our grant-holders. An academic with a PhD in Politics, Pedram also works as a Foreign Policy Adviser for several Persian Gulf countries and counsels private companies on Middle Eastern issues.
Organisation: Toranj Tuition
Location: Kingston upon Hull, Yorkshire
Grant type: A BBC Children in Need and Youth Futures Foundation Inspiring Futures grant worth £40,910 to deliver employment-focused group mentoring, English lessons, and work experience for 40 unaccompanied refugees and asylum seekers over 12 months.
How did you first become involved in Toranj Tuition? 
When I arrived in Hull 17 years ago, I was astonished by the lack of social mobility in the city and the lack of ambition young people had, specifically those from ethnic minority backgrounds. While the government made some effort to rectify this by allocating local resources, they were not enough to tackle the issue. I have a background in social activism, which motivated me to get involved in the matter. With like-minded people, we founded Toranj Tuition in 2013.
In Hull, the number of under-16s living in poverty is nearly double the national average, and the local authority ranks in the top three for deprivation and education (DCLG, 2019). Poverty has a tremendous impact on Hull's diverse migrant population, many of whom are refugees or low-paid migrant workers. This issue was deepened during a significant rise in the non-UK-born population in Yorkshire, which saw an increase of 195% between 2001 and 2011. This sudden growth stretched local resources that were already oversubscribed.
Through Toranj Tuition, we aim to fill the gaps in local provision, support migrant communities, and help children and young people fulfill their potential.
What is the Toranj Tuition approach to raising aspirations?
Our guiding principle is that education drives social mobility. Young migrants face a range of challenges once they join the British education system and can underachieve at school as a result. This has an effect on their employment prospects.
My fellow founders and I took the approach that we could use local resources to fix a local problem. Hull is a university city, and we use this to our advantage. We connect university students and graduates to local schools and communities, where they tutor, inspire and guide children and young people. Since 2013, we have built a network between 30 local schools and currently employ 45 tutors.
At the heart of our education programmes, we provide inspirational support to motivate our young people to fulfill their potential. Our tutors build a close relationship through peer-mentoring techniques and act as role models, showing how academic success can change lives. At the request of our young people (and the schools, parents or guardians and community leaders), tutors offer sessions in essential English, maths and science. Our child education programmes include in-school tuition, homework clubs and informal science workshops.
Under our adult education programmes – aimed at young people aged 18 to 24 – we deliver training in English, mathematics, digital skills, employability and citizenship for forced (i.e. asylum seekers and refugees) and low-paid economic migrants. These are run from our headquarters, Toranj Learning Centre (TLC). We also lead community projects, workshops and socialisation activities. As our young people integrate into the local community, we provide them with the skills to find stable employment and support their resettlement.
How are you using the BBC Children in Need and Youth Futures Inspiring Futures grant?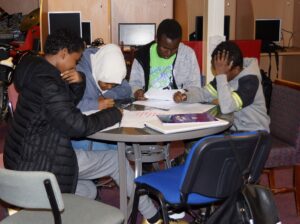 Over the last three years, Yorkshire and the Humber have seen a sizable increase in the spontaneous arrival of unaccompanied asylum seeker children (UASCs). The area's most acutely affected are local authorities in the North East of England, particularly Hull, North East Lincolnshire, and North Lincolnshire where individuals and groups of children arrive at the ports. The local authorities in these areas are then responsible for their care.
The care system in Hull is underfunded and overstretched. It is currently supporting 848 children in care, one of the highest figures for any council in the UK and more than double the number of cases a decade ago. In 2019, 40 UASCs entered the care system in Hull. Separated from their parents, these children are often victims of human trafficking and are extremely vulnerable, with complex needs.
Typically trafficked into the region in lorries, they are recovered by the Police who connect the UASCs with foster parents and local community organisations like Toranj Tuition. The first few months after their arrival is a critical time for an intervention. As they cannot speak English, which causes communication issues with their foster parents, and it takes time for the local authority to find them a school placement, they are left unsupported for several months. This can lead to feelings of frustration and increase their risk of exploitation and re-trafficking. Some end up disappearing, forced to work in factories or farms, or join gangs.
The key intervention we can make is to improve their language skills. They cannot make progress at school without this. If the school experience is negative, involving bullying and poor academic progress, these young people usually go missing after leaving mainstream education.
The Inspiring Futures grant allows us to create a specially designed programme for young asylum seekers about to finish secondary school. The programme is three-fold; it delivers English tuition, peer-mentoring sessions and a work placement. The English tuition covers language development and citizenship and employability skills. Under peer-mentoring, young people receive one-to-one sessions with migrants established in the local community who can share practical advice and emotional support. Finally, the work placement helps young migrants make useful contacts, secure a reference and experience British working culture first-hand.
Young people currently on the programme are making good progress and have now completed their online English tuition sessions. We are now recruiting the next group.
What tips do you have for supporting young people from ethnic minority backgrounds into work? 
We set up an Advisory Committee, made up of 70 former beneficiaries, who are active in their ethnic communities. They share their experiences and thoughts about the challenges young people face and how to address these. This means we have created a highly tailored range of education programmes, which are always reassessed at the end of each project. We continuously improve our programmes to suit the next group, and keep our services relevant to the local community.
Our knowledge of local needs is boosted by our strong links with community groups and businesses, the local authorities, and other key organisations like the Humberside Police and NHS hub. Through these links, we identify needs and challenges, gaps in provision and avoid overlap with other providers. It enables us to make referrals to more specialised support to help with residency status, housing support and securing a work permit.
Finally, we believe that our approach to using local resources to fix local problems has been a hugely important factor in our organisation's success. Our tutors and peer-mentors, recruited from the University of Hull and local ethnic community groups, are effective role models who show new arrivals how to thrive in the UK. We make sure they are well-trained in the latest peer-mentoring techniques and safeguarding procedures so they can provide the best support.
What is challenging about running an organisation like Toranj Tuition and how has the pandemic changed how you operate?
Financial uncertainty is our greatest challenge. Most of our funding is project-based and that doesn't cover overheads and general core costs. Some funders also impose strict eligibility requirements, particularly on age and residency statuses, which can rule out a significant amount of young people in need living in Hull and the East Riding of Yorkshire. This leaves some of the most vulnerable young people in our community without support from the local authority and community groups like us.
The pandemic certainly brought new challenges to our organisation, however, I look for the silver lining. A lot of the changes we made to adapt to the pandemic have had positive outcomes. Because of improvements to our remote learning services, we are now able to reach more people than before from a wider area, including those who are remote and traditionally difficult to engage.
I also think it has made people reassess how we lived before the pandemic, and we have changed our behaviours and priorities for the better.
What do you enjoy most about working for Toranj Tuition?
Like the other directors, I work for Toranj Tuition on a largely voluntary basis. Together, we are dedicated to helping people and changing lives for the better. It brings us a great amount of joy when we help a young person who experiences multiple challenges find a better future and achieve their dreams.
We are supporting Toranj Tuition with an Inspiring Futures grant targeted at projects that work with young people who experience discrimination or disadvantages that create short or long-term barriers to employment, especially those whose journeys towards employment had been further hit by Covid-19. Find out more about how we are investing in potential here.