Our Analysis Manager, Andrea Barry, reflects on ONS labour market statistics released today.
Overall unemployment has decreased to 3.8%, which is good news for the overall economy. Vacancies are also at a record high.
However, for young people, the economic polarisation continues. For young women out of education, economic inactivity has increased, in stark contrast to young men. More young men out of education are seeking employment. Economic inactivity for young people in full-time education has also increased, a worrying trend for those looking to supplement their incomes with work. With high vacancies and more people out of the labour market, some sectors have responded by increasing the wages offered, above inflation. However, this has not been enough to stem the loss of young people, especially women out of education, and young people in education, from the labour market.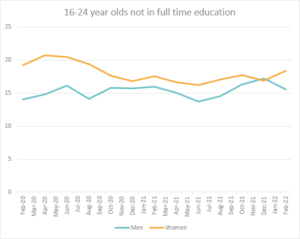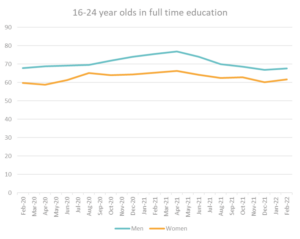 Given the cost-of-living crisis and estimates of inflation around 6%, the loss of employment and increasing prices are worrying for young people. While these figures will provide some details on the overall picture, we still need to understand how young people from marginalised backgrounds are faring in these tough circumstances. The uprating of benefits will not be enough to cover inflation. For young people in the benefits system, the cost-of-living will bite into their income. It is essential to continue monitoring these labour market changes for young people, especially those who are marginalised and furthest from the labour market.